IDIES was established in 2008 through the efforts of Dr. Alex Szalay, Dr. Charles Meneveau, and Dr. Sayeed Choudhury. With the onset of the information age, they recognized a gap between the large volumes of data being captured by researchers, and the resources and tools available to store and analyze that data. In this initial phase, funding support from JHU (KSAS and WSE) was combined with grant funding to create an incubator and testbed for big data infrastructure and storage.
In 2013, in recognition of the strategic importance of computing and data science across the entire university, JHU President Ron Daniels substantially broadened the scope of IDIES. This expansion included the buy-in and financial support of the President's Office and five JHU divisions: KSAS, WSE, SOM, BSPH, and the Sheridan Libraries. IDIES became the leader in big data initiatives and responsible for the research computing efforts at JHU.
In 2015, JHU and UMCP, with IDIES, opened the Maryland Advanced Research Computing Center (MARCC), a world class research computing facility, with the support of a $30M grant from the State of Maryland.
Today, IDIES is a major interdisciplinary program, a large, diverse effort, where faculty and students work together to solve data-intensive problems, from genes to galaxies to materials science and urban planning.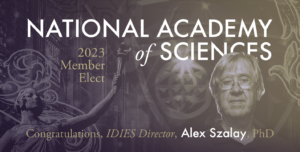 Awards
IDIES Director Alex Szalay was among the 120 scientists elected as a member of the prestigious National Academy of Sciences for 2023.
Read More »