IDIES Seed Funding Initiative
The Institute for Data Intensive Engineering and Science (IDIES) is pleased to announce its 2023 IDIES Seed Funding Program (SFP). The goal of this initiative is to provide seed funding for data-intensive computing projects that:
Involve data science and data-intensive techniques and analysis as part of the core research
Have multidisciplinary teams
Build ideas and teams with good prospects for successful proposals to attract external research support by leveraging IDIES intellectual and physical infrastructure
We are no longer accepting submissions for our 2023 Seed Funding Initiative. Thank you to all who have applied and please check back in the future for other funding opportunities.  
In an effort to support and promote the growth of data-intensive, multidisciplinary, multi-investigator sponsored projects at JHU, IDIES invites faculty and researchers to submit proposals detailing their ideas for research. Proposals should adhere to the three main goals listed above.
Eligible applicants are faculty and research scientists at the Johns Hopkins University who can serve as Principal and Co-Investigators, and who have not previously been selected to receive an IDIES Seed Funding Program award for the same collaboration and/or project in the past. Preference is for early-career faculty, and projects that are interdisciplinary and stretch across the University.
Postdoctoral fellows, and faculty/researchers from entities outside of JHU (including APL) can be named as Co-investigators as long as the principal investigator is JHU faculty or researcher. Non-JHU investigators are not eligible to be named as principal investigator.
The total budget request for a faculty team may not exceed $25,000. Please see specific budget guidelines below. The project period is up to one year beginning April 1, 2023.
Obligations of Award Recipients
Award recipients will be expected to:
Complete proposed research within one year. No-cost extensions will only be available under exceptional circumstances (e.g. COVID).
Prepare a talk and presentation on current project progress to be presented during the October 2023 IDIES Annual Symposium.
Submit a proposal for external research funding through IDIES, striving to do so within one year of completion of the project.
Submit a progress report to the IDIES Executive Committee (erosen@jhu.edu) by the end of the project. The PI will be asked to provide information on grant proposals and publications to scholarly journals, including those submitted, pending and in progress. Due 90 days after project end date.
Acknowledge the support of IDIES in publications or presentations that result from this award.
Title Page – Include proposal title, investigators, their departments and e-mail addresses.
Narrative – Not to exceed 3 pages. Must include the following:

Statement of the Multidisciplinary Problem or Area of Investigation
Project Goals and Objectives – Include the research objectives and/or tool developments that will be accomplished during the SFP project phase.
Future Funding and goals – State how this project will help the proposing team attract new or additional external funding following the SFP phase. What funding agencies and programs will be approached with future proposals?
Multidisciplinary Team – Describe how this project will bring together investigators from multiple departments and/or centers, additional resources (internal or external), and if this is a new group of collaborators or if members have worked together before. One of the investigators must be designated as the Principal Investigator, with the remaining investigators as Co-Investigators.

Budget and Budget Justification – (Budget not to exceed $25,000 for a period up to 12 months) IDIES SFP will support all costs with the exception of faculty/researcher (tenured and non-tenured-track) salary and Facilities and Administrative costs.
Curriculum Vitae for PI and all Co-Investigators (one or two pages, can be standard NSF or NIH formats).
Font Size – Font size for all proposal documents should be:

Minimum 10-pt: Arial, Courier New, Palatino Linotype (Microsoft), Helvetica or Palatino (Macintosh)
Minimum 11-pt: Times New Roman
The IDIES Seed Funding Program Review Committee may seek budget adjustments before making final decisions by the end of March 2023. The anticipated award start date is April 1, 2023. A committee of 3-5 IDIES members will review the proposals. The committee will consider several factors before making a decision: a healthy balance between the different schools and scientific domains, optimizing the impact of such a relatively modest investment, utilization of data science and data-intensive techniques and analysis in the core research, the professional career phase of the PIs, whether supporting this research would expand the existing cross section of IDIES research, and a strong prospect of future external funding.
The PI should ensure the proposal contains all required elements and is clearly written. Although reviewers are chosen who are familiar with some of the proposed areas of research, it is not possible to have an expert in every field represented by the proposals. Therefore, it is imperative that you make a convincing argument why this research is important in your field and should be funded at this time.
This call is supported by a partnership that includes funding from the following Johns Hopkins divisions:
Krieger School of Arts and Sciences
Whiting School of Engineering
School of Medicine
Bloomberg School of Public Health
Sheridan Libraries
Carey Business School
Please contact Elliot Rosen (erosen@jhu.edu) if you experience technical difficulties completing your submission or need any further clarification regarding the requirements.
IDIES Seed Funding Initiative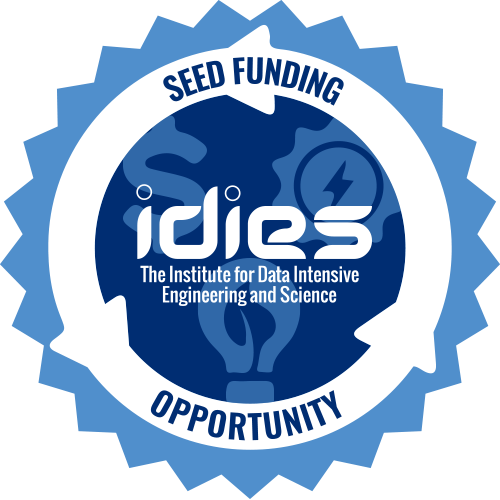 Our 2023 submission period has ended
Thank you for your interest in IDIES Seed Funding. We are no longer accepting submissions for the 2023 year. Please check back for updates on submitting for 2024.